Light Transport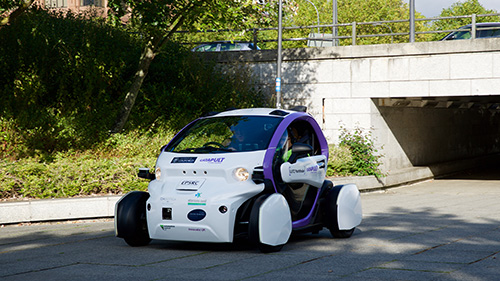 The ORI works on all aspects of mobile autonomy. We use flagship projects to force the development and evaluation of emerging technology. One such standout project is the deployment and testing of a complete autonomy system on small "pods" for urban use.
LUTZ
This flagship has its genesis in the LUTZ project which was a collaboration between Oxford and the Transport Systems Catapult. The LUTZ project saw Pods deployed in the streets of Milton Keynes in October 2016, running the complete autonomy system we refer to as Selenium. Beyond demonstrating autonomous vehicles, the project addressed the wider key challenge of how to increase mobility by demonstrating the potential for effective and cost-efficient movement of people in a city.
UK Autodrive
Looking out beyond LUTZ, ORI, with the support of Oxbotica, is developing and supporting
the use of Selenium to support a larger fleet of 40 pods as part of the UK Autodrive Consortium.
The Mapping of Milton Keynes (or wherever)
A key stage in the deployment of the technology is training, producing what we call "scene priors". These are simply detailed maps of the environment and they are adorned with all kinds of extra information like lighting changes and seasonal appearance changes. An example can be seen below.