17 Nov 2023
Oxford Robotics Institute wins prestigious Queen's Anniversary Prize
The Prize, awarded for innovation in autonomous robotic technologies, is the highest national honour available to universities and further education colleges across the UK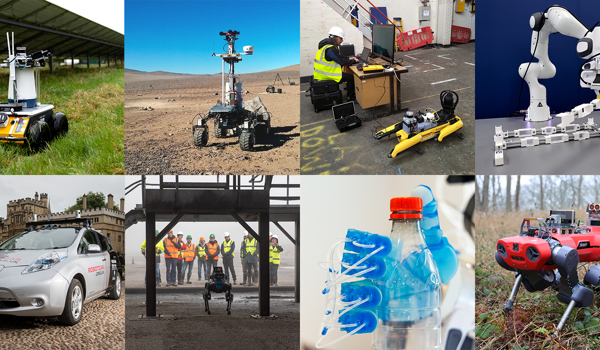 The Oxford Robotics Institute (ORI) has been awarded a Queen's Anniversary Prize for innovation in autonomous robotic technologies. This prestigious award is the highest national honour available to universities and further education colleges across the UK.
The Queen's Anniversary Prizes are part of the UK's national Honours system, recognising outstanding work by UK colleges and universities which demonstrates excellence and innovation and delivers real benefit to the wider world. First awarded in 1994, the Prizes are granted every two years by the Sovereign on the advice of the Prime Minister following a rigorous and independent process of review carried out by The Royal Anniversary Trust, an independent charity.
The University of Oxford is among 22 UK educational institutions announced as winners of the 2023 Queen's Anniversary Prizes. The winners of the fifteenth round, selected from over one hundred entries, were announced at a special reception at St James's Palace last night.
The award recognises the ORI's achievements in delivering fundamental advances in autonomous robotics technology, providing new capabilities to industry and society, and supporting future sustainability and growth in sectors such as transport, agriculture, and energy. Part of the Department of Engineering Science, the ORI grew from a nucleus of a single research group in 2003, to an independent research institute in 2016. Today it is home to 100 people across seven research groups, who carry out fundamental research in robotics and artificial intelligence, as well as working directly with partners in sectors such as construction, agriculture, care, manufacturing, and energy.
"I am hugely excited for the University to receive this award that recognises the energy, passion, and ingenuity of the researchers and staff from the Oxford Robotics Institute. The prize reflects the significant impact their work has had on a range of sectors, from transport to agriculture, and highlights the huge potential of our work to address future societal challenges including the transition to Net Zero and space exploration."
Nick Hawes, Professor of AI & Robotics & Director of the ORI
Notable achievements from the ORI that were highlighted in the prize include:
Producing RobotCar, the first autonomous vehicle permitted on public roads in the UK , with support from EPSRC and Nissan;
Developing navigation technology that will fly on ESA's Rosalind Franklin rover;
Influencing Sellafield and the UK Atomic Energy Authority's robotics strategies for safer, cleaner nuclear energy;
Driving innovation in hardware, perception, control and decision making for robotics in extreme environments, as a major participant in the UKRI Industry Strategy Challenge Fund Robots for a Safer World programme.
Validating the safety and capability of robotics technologies in over 380 field trials in locations as diverse as Icelandic volcanoes, the Atacama Desert, mines in Wiltshire and Kentucky, Loch Ness; and the surroundings of the JET fusion reactor;
Partnering in DigiForest, a Horizon Europe project developing innovative robotics and analytics technology to enable sustainable forestry (including supporting quantification of a forest's carbon sequestration);
Publishing over 900 papers and raising over £40M of funding from research councils, companies, and donors;
Generating at least 22 patents, 70 Intellectual Property licences and four start-ups;
Developing the next generation of AI and robotics researchers by training over 120 PhDs, 40 postdoctoral researchers, and at least 60 Masters students.
Sir Damon Buffini, Chair of The Royal Anniversary Trust said, "The Queen's Anniversary Prizes for Higher and Further Education are an integral part of our national Honours system, shining a light on the ground-breaking work taking place in universities and colleges across the UK. All 22 Prize-winners demonstrate excellence, innovation and impact, with many tackling some of the toughest problems we as a society face today. They are to be commended for reaching this pinnacle of achievement in the tertiary education sector. Congratulations!"
The winners will be presented with a medal and certificate at a formal Honours ceremony in February 2024.
Professor Irene Tracey, Vice-Chancellor of the University of Oxford, said, "I am thrilled that the Oxford Robotics Institute has been awarded the Queen's Anniversary Prize. Their work is a fantastic example of our researchers collaborating with industry to come up with cutting-edge solutions to the world's challenges, from supporting sustainability in agriculture to improving safety in manufacturing. Congratulations to all those involved!"
Further information about the Awards can be found on the Queen's Anniversary Trust website.