17 Jun 2021
Robots for a Safer World
Industrial environments can be hazardous for workers. In 2019/20, 111 UK workers died, and 693,000 workers reported they had suffered a non-fatal injury at work, imposing a cost of more than £16 billion on the UK economy.
The Oxford Robotics Institute has been awarded £725,000 to extend their involvement in the UK Research and Innovation (UKRI) Industrial Strategy Challenge Fund to undertake research for the development of new technologies to operate in extreme and challenging environments. These are environments which are dangerous to work in, or hard to reach, such as those found in the nuclear power and offshore energy industries. 
ORI will continue to collaborate with two research hubs (originally funded in 2018) and one new Innovate UK project to achieve this:
Offshore Robotics for Certification of Assets (ORCA)

Robotics and Artificial Intelligence in Nuclear (RAIN)

AutoInspect - Autonomous Inspection of Industrial Facilities
The research output from these projects will be leveraged for use in other industrial sectors, such as agriculture, construction, logistics and healthcare. 
Offshore Robotics for Certification of Assets Hub (ORCA Hub)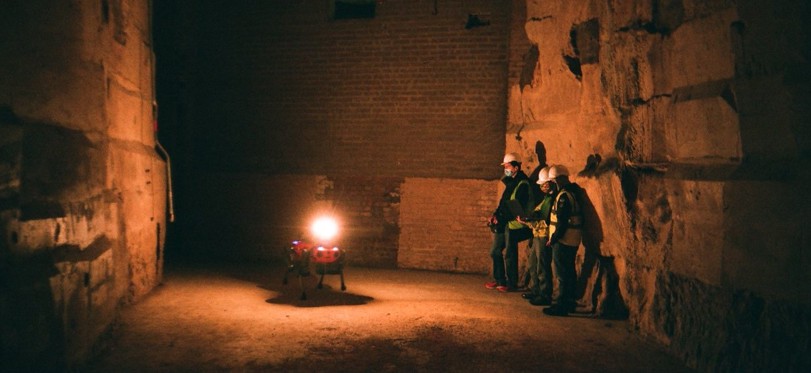 Photo by ORI student Matias Mattamala
The ORCA Hub (lead by Prof. Yvan Petillot of Heriot-Watt University) aims to use robotic systems and artificial intelligence to revolutionise asset integrity management for the offshore energy sector, by providing remote solutions that can be readily integrated with existing and future assets and sensors, and that can operate and interact safely in autonomous or semi-autonomous modes in complex and cluttered environments.
ORI's contribution to this programme of research focuses on the following areas:
1) Manipulation with the ANYbotics ANYmal: Developing world-leading technologies for improving the inspection and manipulation capabilities of quadruped platforms, such as the ANYmal, and integrating online perception feedback. Video of initial work
2) Quadruped Inspection and Exploration: Developing new cross-platform anomaly detection and extending ORI's mapping and autonomy framework to work with new platforms, such as the market-leading Spot robot. Video of initial work
3) Aerial Mapping and Inspection: Developing a novel large-scale aerial adaptive-resolution mapping solution that will demonstrate 3D LIDAR/Vision mapping in a closed loop with a heavy-duty drone.                                        Video of initial work
Other partners in ORCA include Heriot-Watt University, Imperial College London, Universities of Edinburgh and Liverpool. ORCA Hub website
Robotics and Artificial Intelligence in Nuclear Hub (RAIN Hub)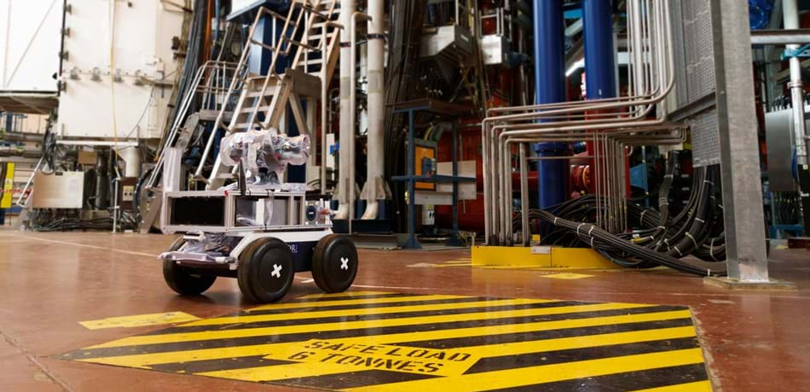 RAIN aims to lower costs within the nuclear industry, reduce timescales, reduce risk, improve safety, promote remote inspection, and reduce the chances of human exposure to radiation and other hazards.
ORI's contribution to this programme of research includes the following areas:
1) Robust Control and Locomotion for Quadrupeds: Improving control algorithms, using supervised learning and reinforcement machine learning techniques, to expedite the development of, and ultimately develop, robust control architectures that will enable quadruped platforms to navigate unstructured and complex terrain in unknown environments. Video of ongoing work
2) Remote Inspection in Nuclear Environments: Developing frameworks for navigation, sensing and spatial-mapping that enables robots to efficiently explore irradiated environments, while ensuring that the robot does not navigate into high radiation environments, by utilising probabilistic models for the prediction of radiation across the workspace. 
To advance this research, ORI recently conducted a major field trial at Joint European Torus (JET), situated at the UKAEA site in Culham. The trial involved remote operation of a customised Clearpath Husky robot entering a nuclear environment, scanning for radiation at fixed locations, and returning to base hours later. The process demonstrates the value of using robotics to transform nuclear inspections and creating a safer, and more productive, world. Video of this trial.
RAIN is led by University of Manchester (Prof. Barry Lennox) and also includes the Universities of Bristol, Sheffield, Lancaster, Nottingham, Leeds, Reading and Liverpool as well as RACE, a unit of UKAEA. RAIN Hub website.
AutoInspect - Autonomous Inspection of Industrial Facilities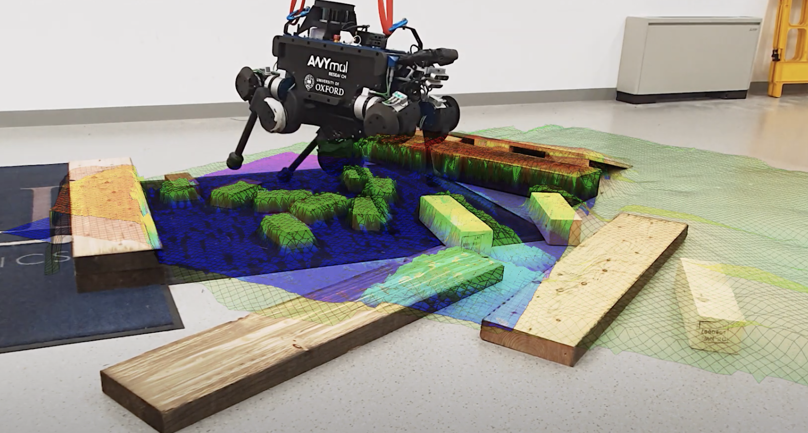 AutoInspect is a one year Innovate UK funded project in collaboration with Createc Ltd (based in Cockermouth, Cumbria). AutoInspect will develop an automated pipeline for robotic inspection and data management that will enable flexibility about the robotic platform, sensor suite, mission parameters and data management platform without fundamental re-engineering. We will work with our support partners Chevron and Costain to develop and test an industrial inspection capability which can be applied both in the energy and construction sectors.
These research projects will be undertaken by an interdisciplinary team from Oxford Robotics Institute led by Profs. Nick Hawes, Ioannis Havoutis and Maurice Fallon.