19 Jul 2021
Goodwood Festival of Speed 2021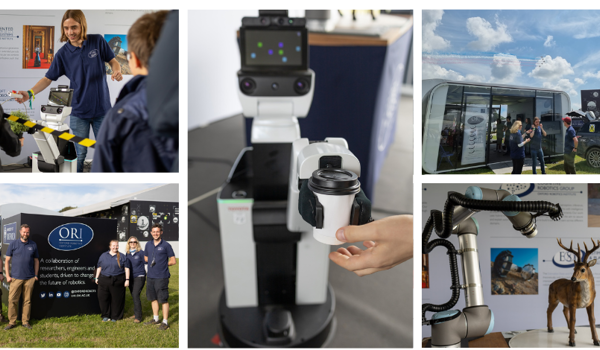 The Oxford Robotics Institute attended the Future Labs Exhibition at the Goodwood Festival of Speed between 8 and 12 July 2021.
The Future Labs Exhibition is an internationally recognised launchpad for the world's most innovative and forward-thinking visions of technology. ORI were invited to present their cutting-edge research output on autonomous vehicles, human assistance support robots, high-risk and hazardous environment assessment robots; as well as robot-assisted 3D modelling of complex objects through live demonstrations and expert-led discussions.
This Exhibition enabled ORI to engage with the community, develop new partnerships, deepen our relations with existing partners, and communicate the ORI's recent achievements to technical and non-technical audiences.
"The University of Oxford was delighted to be part of Future Lab and the Festival of Speed 2021. It was a great experience. It was a chance for Oxford to share the wonder of what we do and engage with the public on our scientific and robotic advances. People thoroughly enjoyed participating with our staff and pod. We benefited by increasing public engagement with Oxford's science and connecting with influential people."
Professor David Gann CBE, Pro-Vice-Chancellor for Development and External Affairs, University of Oxford
The ORI's demonstrations included:
Range Rover: The 'Range Rover', an autonomous vehicle fitted with a sensor suite that collects data under diverse operating conditions, including motorway, dense urban, and off-road driving in difficult weather during the day and night, which is being used for the 'Sense Assess eXplain' ('SAX') project to build social trust in autonomous vehicles.
Bam Bam: 'Bam Bam' is a compact, mobile collaborative robot platform that is voice operated, highly manoeuvrable, and capable of retrieving and manipulating objects in various environments. It is being developed as a Human Support Robot to assist the elderly at home or in residential care facilities to maintain their independence in performing everyday tasks.
Inspector Gadget: 'Inspector Gadget' is a UR10 robotic platform that manipulates complex objects before sensors to create a 3D model of the object. It is being used to develop a more efficient algorithm for the creation of 3D models by reducing the total number of views required to build an accurate model of a complex object and the distance to be travelled between each view. This will have applications that improve the computational and energy efficiency of the use of 3D modelling in diverse industries.
Other ORI robots featured at the Exhibition included 'Husky', which carried out a radiation scanning mission that will eventually be used to reduce the need to deploy humans in some hazardous environments, 'Hulk' an all weather long-term autonomous vehicle and the 'Jackal', an unmanned ground vehicle supplied by Clearpath Robotics.
We would like to thank the University of Oxford Pro-Vice-Chancellor's Office for their support and the Goodwood and Catapult Teams for hosting the Future Lab Exhibition at the Goodwood Festival of Speed. We are also grateful to all ORI staff and students who contributed their time to help make the whole event a great success.
We hope to return with more robots in 2022!
If you met us at Goodwood FoS and would like to get in touch about future opportunities, please contact us