04 Dec 2020
From Sensing to Collaboration
Engineering, Exploring and Exploiting the Building Blocks of Embodied Intelligence - An EPSRC Programme Grant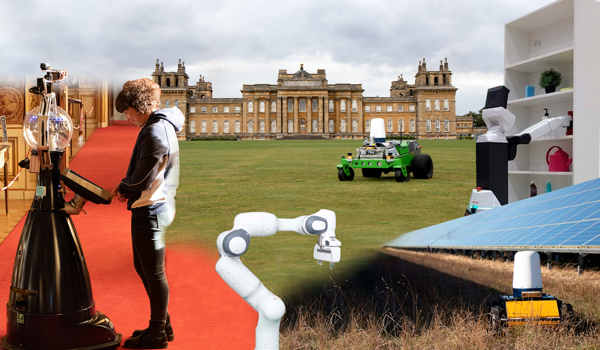 We are pleased to announce our new EPSRC Programme Grant: From Sensing to Collaboration - Engineering, Exploring and Exploiting the Building Blocks of Embodied Intelligence
Currently, robots are too specialised, too impoverished in their sensing, too uncooperative and too unsafe to be productive at scale. To contribute to productivity in strategically important areas such as social care, manufacturing, logistics, service, inspection or agriculture, future generations of robots need to be able to sense, interpret, act, navigate, coordinate and collaborate with an hitherto unprecedented acuity. 
With significant support from EPSRC, the University of Oxford together with UCL and a cohort of academic, industrial and deployment partners are therefore embarking on an ambitious five-year programme of work on Engineering, Exploring and Exploiting the Building Blocks of Embodied Intelligence.
The overarching aim of this research programme is to deliver autonomous systems which amplify human capacity and potential. These robots must be capable of performing a broad array of bespoke tasks effectively, with minimum operator intervention. In a sustainable national centre of excellence we will grow the technology and people substrate for robust embodied intelligence, i.e. the science and technology to enable robots to robustly and flexibly act, interact and collaborate in the real world.  
The project focus lies on delivering autonomous systems which, over the course of their life-time, acquire the sensing, perception, manipulation, navigation, collaboration and problem-solving abilities required to allow them to operate unaided while significantly enhancing human productivity. The programme aims to significantly expand the reach and versatility of robots in domains of strategic and commercial value by exploiting synergies across research disciplines, which only emerge when deploying robot systems. In doing so, the research is driven by both fundamental science questions as well as real-world applications. Together with our partners we have a clear scope in mind: versatile, collaborative robots whose societal and economic footprint is vast. The work will underpin a national strategic aim with a carefully considered and coherent programme of research: from sensing to collaboration.
The research will be undertaken by an interdisciplinary team of academics from the Oxford Robotics Institute (Profs. Posner, Hawes, Maiolino and Newman) as well as from UCL (Profs. Berthouze and Fleming). Professor Ingmar Posner, lead PI, head of the Applied Artificial Intelligence Lab and a founding director of the Oxford Robotics Institute, says "We are delighted to embark on this project with a set of partners and collaborators who are equally passionate about advancing the real-world impact of robotics research. Integral involvement of our technology and deployment partners will ensure that our work stays focused on real and substantive impact in domains of significant value to industry and the public domain.".
Funded by EPSRC, the work is supported by Accenture Labs, BP International, Bossa Nova Robotics, Honda Research Institute (Europe), L3Harris (ASV), Navtech Radar, Ocado Group, Oxbotica, Oxfordshire County Council, UKAEA RACE, Saga Robotics, Scan Computers and The Shadow Robot Company as well as the Australian Research Council Centre of Excellence for Robotic Vision at QUT, and the Autonomous Systems Lab and Institute of Robotics and Intelligent Systems at ETH, Zurich. 
For more information please contact media@oxfordrobotics.institute.