19 Jul 2022
RoboCup Bangkok 2022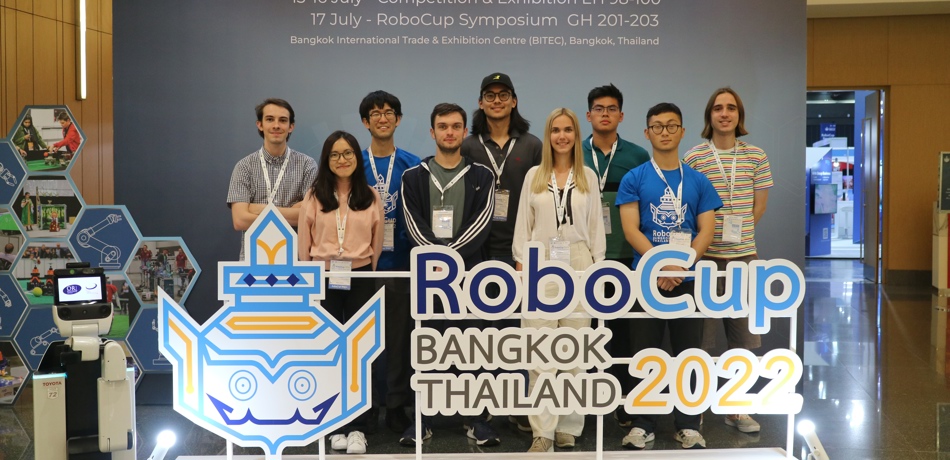 In July 2022, Team ORIon competed in its first RoboCup since 2019.
RoboCup is an annual international robotics competition with the aim of promoting robotics and AI research. The event was held in Bangkok, Thailand, with 14 different leagues and teams from across the world.
Since our last competition at RoboCup 2019, the team has expanded its membership considerably to include additional PhD students and undergraduate students who have worked tirelessly with the Toyota Human Support Robot (HSR) in preparation for the event.
Team ORIon sent nine members to Bangkok, thanks to support from the ORI, the Department of Engineering Science, and several colleges and private donors. The team participated in the "@Home" domestic standard platform league (DSPL) in which the robot must assist humans in household environments such as a living room or a kitchen. Tasks included greeting house guests, storing groceries, and taking out the garbage. This required the  combination of each of the robot's capabilities such as navigation, task-level planning, manipulation, voice recognition, vision, and semantic mapping.
The team attempted the "find my mates" task, where the robot must search the living room, find party guests, and report their location and details to the party host. To accomplish this, over the past 12 months team members developed and improved the HSR's person and object recognition and position estimation, speech recognition and hotword detection (similar to "Hey Google, …"), and facial recognition and facial attribute detection. The team also implemented a new semantic mapping database and a new failure-tolerant state machine to coordinate the HSR's task-level behaviour. Although sub-system hardware and task simulation tests were successful prior to the competition, and the robot passed the competition inspection test, the team encountered several unexpected issues when operating in the competition arena, which prevented the robot from completing the task in the allotted time.
The team worked incredibly hard and learned a lot from this experience. In addition to learning valuable technical and robot deployment skills, team members got the opportunity to meet and learn from the other teams, university researchers, and industry members that were present at RoboCup.
Following a COVID-hiatus and team refresh 12 months ago, Team ORIon has made great strides this year. This is thanks to the work of its dedicated student team members and support from the university, colleges, and other private donors. The team is excited to continue its journey next year at RoboCup 2023 in Bordeaux, France!