JOIN US
Join Our Team! 
If you are an Oxford University student (undergraduate or postgraduate) interested in AI and robotics and would like to join the team, please get in touch with us.
We are looking for eager students from all academic backgrounds to join us in taking our robot to new heights by developing new functionality, competing at international competitions, showcasing the robot at demonstrations, and helping manage the student team.
In addition to joining our technical sub-teams, we are also looking for students to assist with team leadership and project management.
To express your interest in joining the team, please send an email to orion-enquiries@oxfordrobotics.institute with your name and a short description (150 words max) of what part of the team you are most interested in getting involved with and why. It's ok if you are unsure about which sub-team you want to join - we can work this out later. The application process consists of an informal chat with one of the team or sub-team leaders.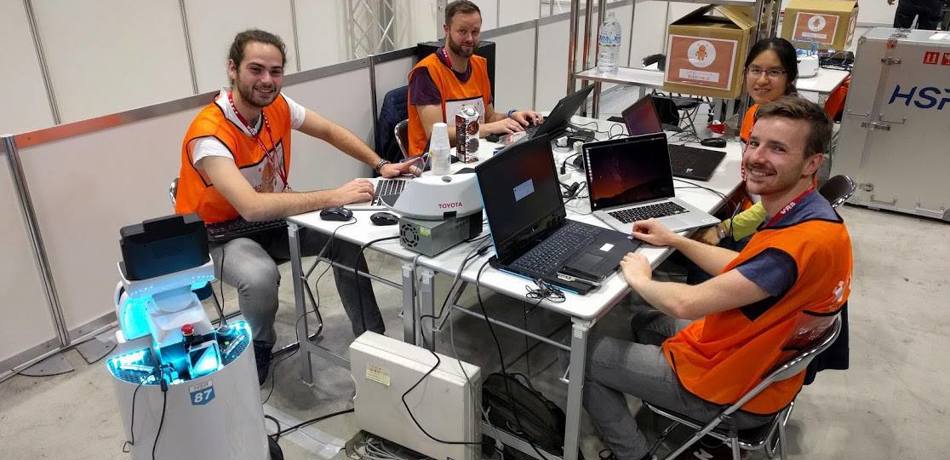 Team ORIon Tokyo 2018
How Can I Contribute?
You can join the team at any time but most people tend to join at the start of the term and contribute during term-time. After you are trained up, you might have the opportunity to do some programming to build a new robot capability (manipulation, perception, speech, etc.), work on the robot hardware, or even create a cool new demonstration for the robot such as greeting a human with a high-five or playing mini-golf!
You can also join the team via a paid 12-week Undergraduate Summer Internship run by the Oxford Robotics Institute, in which you will initially work on a specific project. See here for more information and how to apply. We recommend that you make clear in your application that you want to work with Team ORIon, as the internship is ORI-wide. This opportunity is also open to local and international undergraduate students studying at universities other than Oxford.
You Are Qualified To Join!
Don't worry if you aren't a robotics whiz yet. No prior experience is necessary and you don't need to be an engineering or robotics student to join. Our experienced sub-team leaders will teach you the basics of the Linux operating system, Python programming language, and Robot Operating System (ROS) framework so that you can work with the robot in both simulation and hardware. You can also dive in deeper with sub-team-specific training on topics including computer vision and machine learning (e.g., OpenCV, TensorFlow).
Benefits Of Joining
There are many benefits of joining:
Gain experience working in a multidisciplinary team - looks great on your CV

Learn from Oxford Robotics Institute professors, PostDocs, and DPhil students

Get hands-on experience working with a real robot and run your code on it

Learn crucial robot design skills, including electronics, hardware and software design

Learn about the the requirements and challenges of real-world domestic robot applications

Learn industry-standard programming languages and software tools

Join a community of like-minded robotics-enthusiasts and make friends
Still Unsure?
View the latest Team ORIon Information Session slides or if you have any further questions, head on over to the Contact Us page to get in touch with us.