SPONSORS
Sponsors
It is thanks to the ongoing support from our sponsors that the Oxford Robotics Institute's 'Team ORIon' exists as a cutting-edge learning space for future leading engineers. Their resources are an essential part of our operations and we are appreciative of the opportunities it has afforded the team.
Toyota
Our Human Support Robot (HSR) is on loan from Toyota. The HSR is a compact mobile cobot (collaborative robot) platform that can move around and fetch objects using a multi-DOF arm while avoiding obstacles. Operable by voice command or by tablet PC, HSR has a highly maneuverable, compact, and lightweight cylindrical body with a folding arm that enables it to pick up objects off the floor, suction up thin objects, retrieve objects from high locations, open curtains, and perform other household tasks. The intention is that HSR will be able to assist those who are unable to move on their own, with everyday tasks.
Department of Engineering Science 
The Oxford University Department of Engineering Science provides funding to support the team, including funding for our student team members to attend international robotics competition, regular social events, and training events.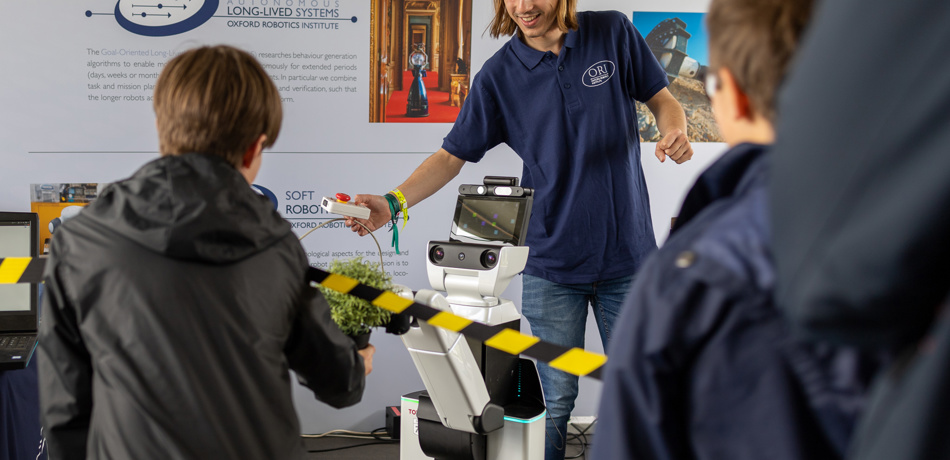 Becoming a sponsor
We are always looking to form new partnerships that add value both for our sponsors and for the Team ORIon project. Our sponsors provide essential financial resources, expertise, and equipment; that support our sub-teams to develop useful, intelligent, and trustworthy domestic service robots as part of a long-term student robotics competition project. Our sponsors derive substantial value from liaising with student engineers at one of the most prestigious universities in the world, as well as being part of the competition and outreach process with us.
To learn more about what Team ORIon can offer your organisation, or have any questions about the project, please contact us at orion-enquiries@oxfordrobotics.institute