Platforms
Platforms
MRG is fortunate in being equipped with a large number of wheeled robotic platforms. We believe that field robotics is fundamental to a good education in robotics and to demonstrate the impact of our world-leading research.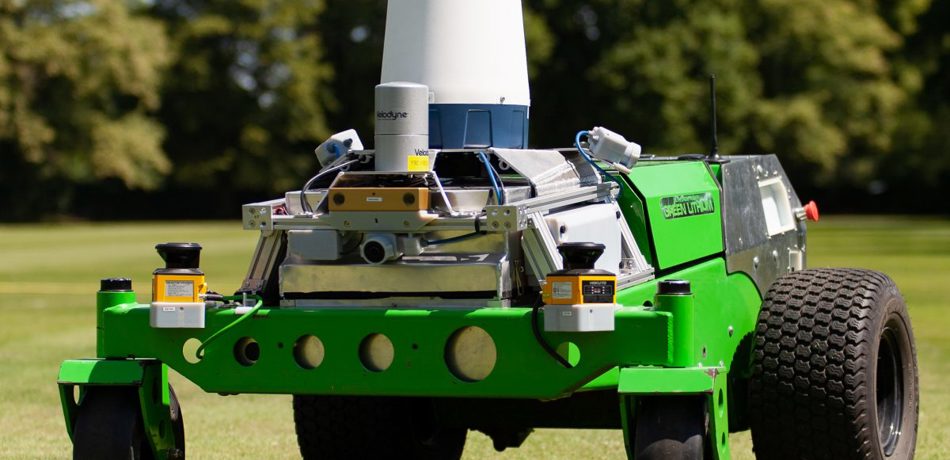 Hulk
Our new rugged platform for investigating robot autonomy in all-weather conditions, in places we have not typically seen robots drive before and operating for many hours with minimal expert supervision.
Range Rover
This vehicle has been equipped with a powerful sensor suite as part of our partnership with Jaguar Land Rover. The flexibility of this platform means that the Range Rover is both our primary urban data collection platform, as a successor to our Nissan LEAF RobotCar,  as well as an extremely capable off-road survey vehicle.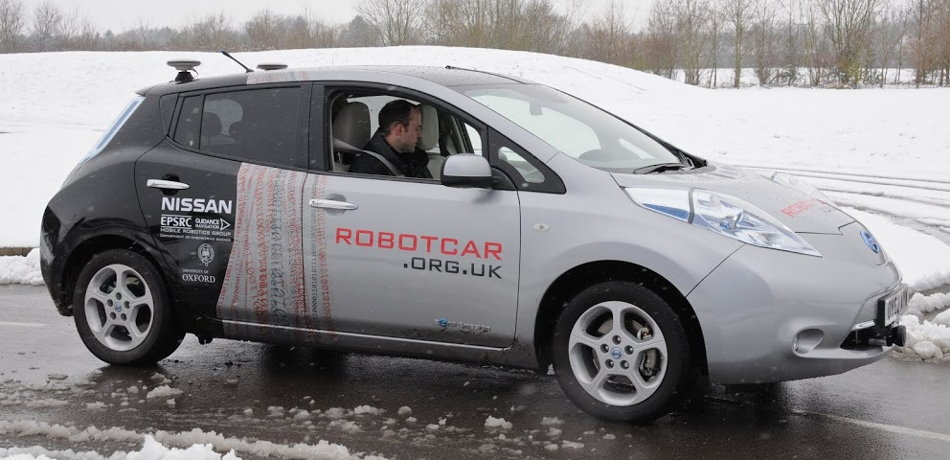 RobotCar
This fully autonomous-capable modified Nissan LEAF was the first demonstration of driverless technology on UK roads in 2013.
Space Rover
Our Space Robot is a Q14 robot from Advanced Robotics Concepts. With active 4 wheel steering and drive, a passive dynamic suspension system and a range of sensors, the Q14 is well equipped to handle a range of environments and provides us with a great platform to test our algorithms.
The chassis is capable of Ackermann, Omni (crabbing) and skid steer modes, as well as on the spot turning. The low power requirements allow for long range experiments and investigations into energy usage. The accompanying 5 degree of freedom arm and pan tilt head unit allow us to interact with our environment, going beyond simply mapping and observing.
The Q14 will join with our other robots in allowing us to push our research forward. The main focus of the Space Robot is on teach and repeat, energy usage and environment interaction.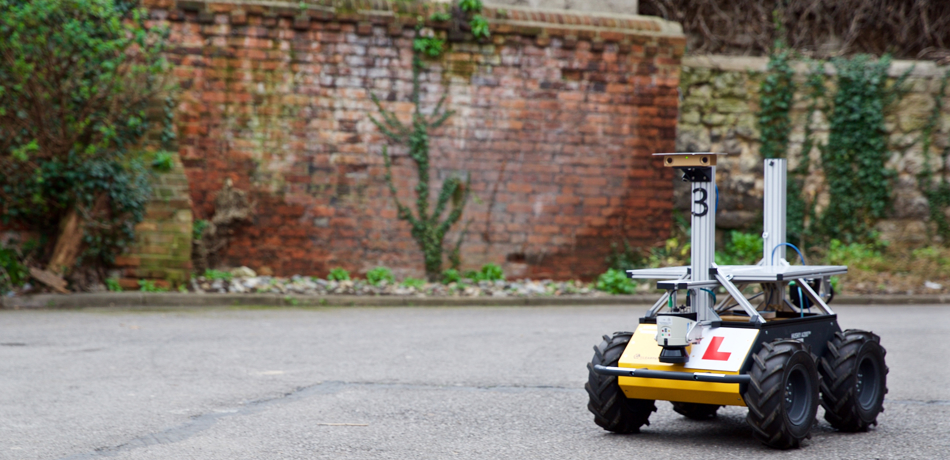 Husky
By Clearpath Robotics, it is our most versatile robotic platform. Easy to set up with a wide range of sensors, it can be used for fast testing of outcomes as well as student training.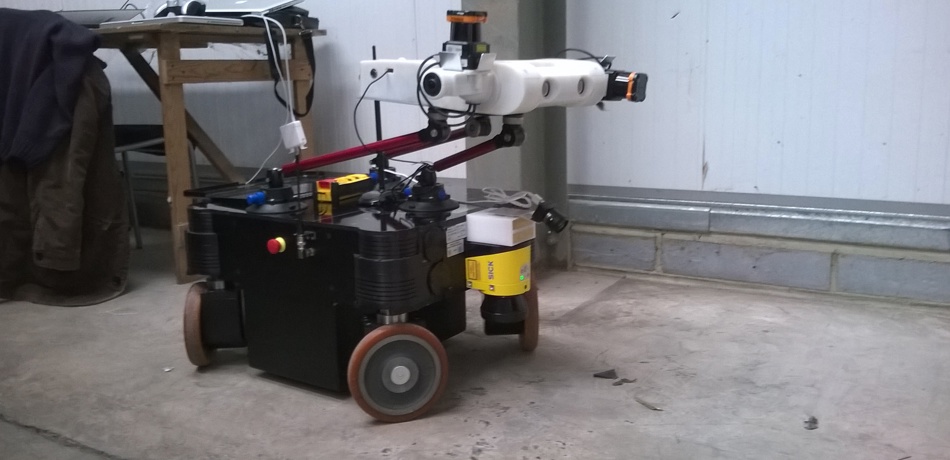 Neobotix
The MPO700 from Neobotix has a 300kg payload, is holonomic, and is trivial to retrofit with cameras and a compute facility.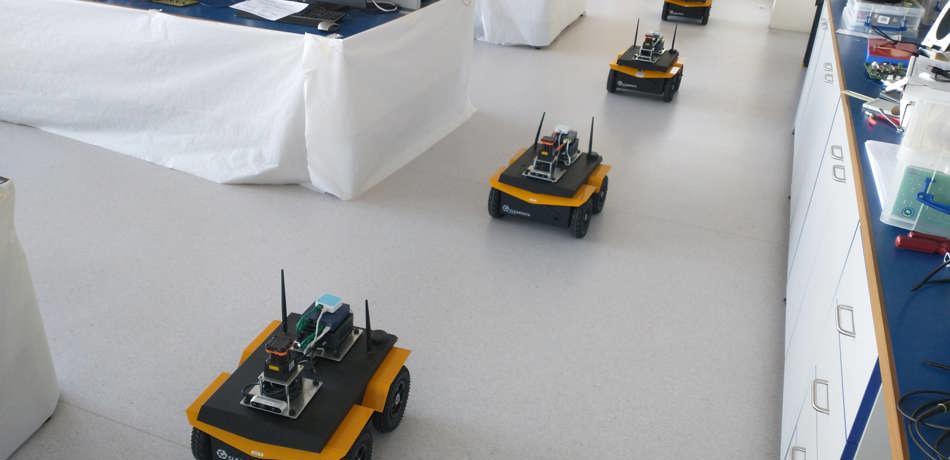 Jackal
By Clearpath Robotics, the Jackal is perfect for indoor navigation project due to its dimensions.
NABU
Surveying is an important part of our work. Many of our algorithms rely on detailed and accurate surveys of the environment to function. The main survey tools we have at our disposal are the NABU.
The NABU is the embodiment of everything MRG in a small, portable package. This is a data collection unit used to generate detailed maps of world so that our robots can subsequently navigate using them. Using the NABU, we aim to make map-building fast and intuitive.
We designed four iteration of the NABU, reducing dimensions and increasing portability.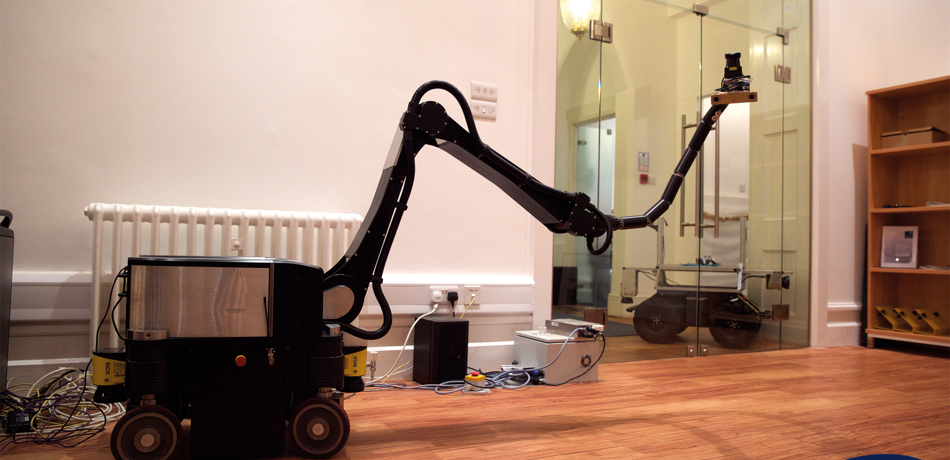 Snake Arm
The inspection thread seeks to augment human ability in detailed inspection. The snake arm allows sensors to be deployed in hard to reach places  – almost like key hole surgery. it carries cameras and laser to able us to recreate reconstructions of the shape of awkward and potentially dangerous places, but also characterise what is in them.
Many inspection tasks are too dangerous for humans to undertake – for example carrying out surveys in mines, nuclear plants or sites of a natural disaster. In our Inspection Flagship, we are working to enable robots to carry out these tasks, using a snake-arm robot to explore and survey complex and potentially hazardous structures.